Following the showing of its dramatic prototype, the gull wing Frisky saloon at the Geneva Motor Show in March 1957, Henry Meadows (Vehicles) Ltd introduced the new Meadows` Frisky Sport, on stand No 127 at The International Motor Show held at Earls Court in October 1957
Meadows had two cars on display, The new FriskySport was on the floor of the stand where it could be tried by visitors and mounted on a plinth with a two-way tilt to enable the public to examine its details with maximum ease was an example of a new Frisky saloon.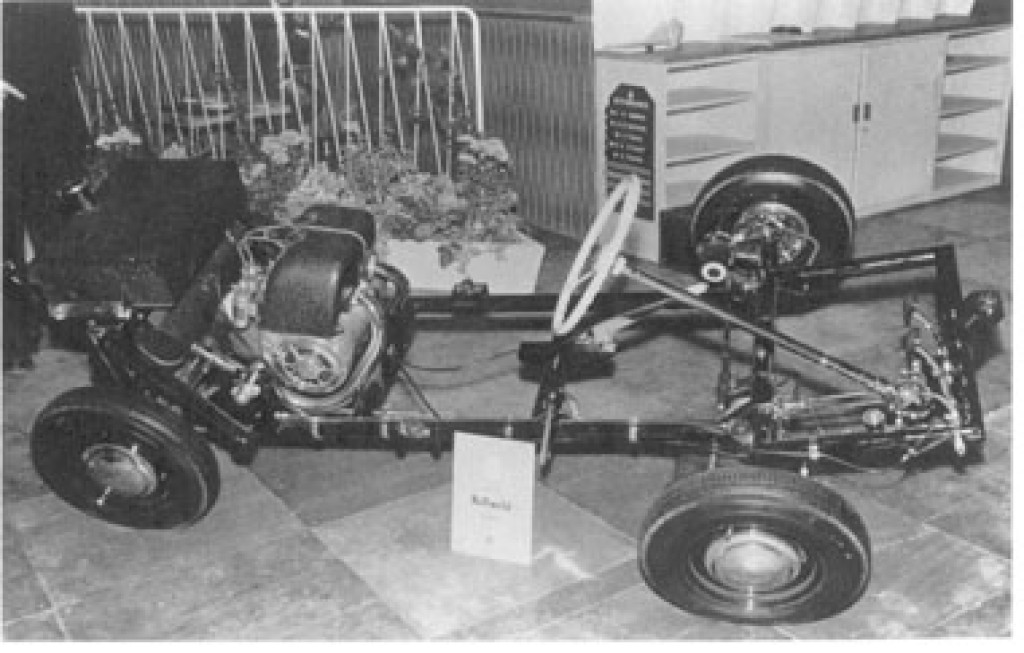 In addition, there was also a tubular rolling chassis, tilted ready for inspection
The Show was opened by Prime Minister Rt. Hon. Harold Macmillan M.P. on October 15th and ran until October 20th. Nearly 60 car manufacturers were represented along with more than 500 exhibitors, interestingly enough nearly half of the car stands were for vehicles of overseas design, a sign of things to come! (Overseas visitor showing their passports got in free)
The new FriskySport caused as big a sensation as the prototype had at Geneva being heralded as "the latest and most revolutionary of British small cars" and several well-known persons of the day were photographed in it including Harold Macmillan, Lady Docker, Stirling Moss and film stars such as Stanley Baker, Donald Sinden and the starlet sitting next to him, who is she?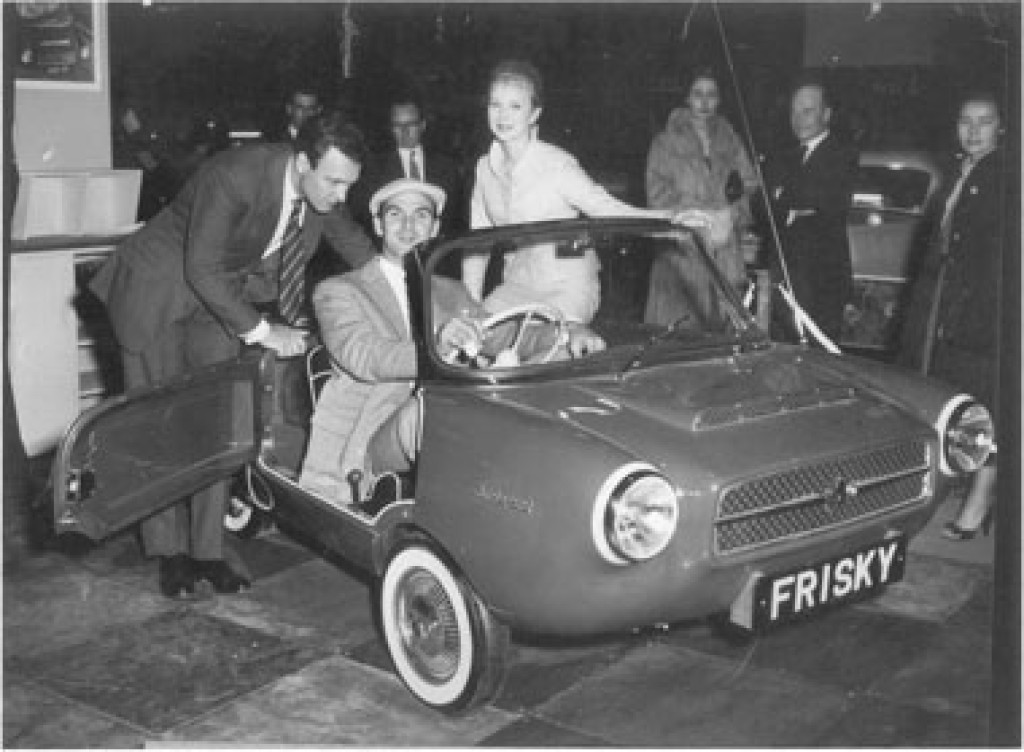 But despite all the hype things were not quite so organised as they seemed, the stand had been constructed in the works at Wolverhampton shipped down to Earls Court and constructed (despite union resistance) by Ron Smith, Meadows Marketing Manager ably assisted by Fred Denton their Graphic Design man,
The cars on display were still pre-production models, only seven cars had so far been built and the design had yet to be finalised.
The FriskySport on display was the original prototype UUK 42 which had a secondary square-section chassis moulded into the fibreglass floor.
Close inspection reveals that it still had concealed door hinges, rubber rear bumpers (A'la Triumph herald),and blanked off rear air vents from the original non-fan-cooled engine. This car incidentally was the one that featured in all the Sport/Coupe sales literature, being suitably airbrushed each time to give it all its different identities!
Legend has it that such was the demand for the car at the show that order forms were sold to prospective customers for £1.00 each, not bad considering the gross average wage was then only £14 a week! A Meadows engineer told me that he tried to buy the show car of the stand and offered its anticipated selling price of £350. He was told to politely "go away" or words to that effect, as it had cost over £7000 to produce it!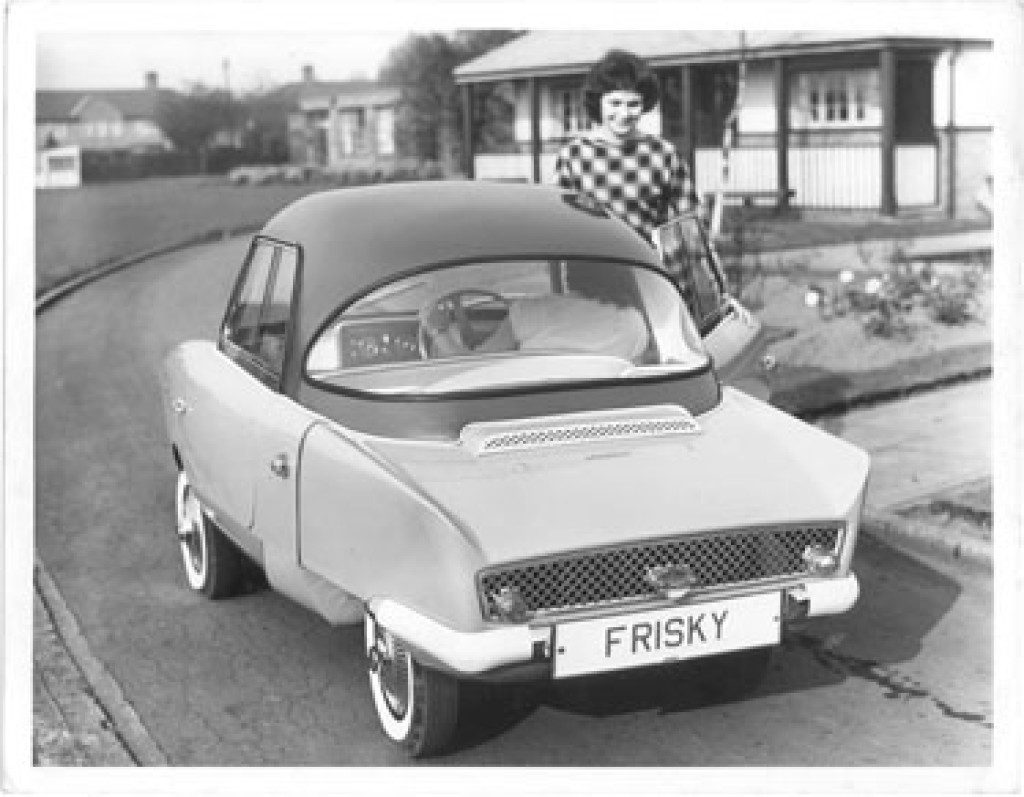 The "saloon" on display was, in fact, the other prototype Sport which had been the subject of the now well-known cutaway drawing by John Marsden for Autocar in October 1957. Its bodyshell had been cut right back either side of the engine in an (unsuccessful) attempt to make it into a four-seater and then "topped off" with a special one-off large hardtop. This picture shows it in the factory awaiting delivery to the show it never entered production.
The FriskySport finally went into production in March 1958 and was joined on the production line in August 1958 by a saloon to be premiered as the Frisky Coupe at the eventful 1958 Earls Court Show.