I wrote this short article in 2010 to give Frisky owners a flavour of the man so closely involved with their cars. I reproduce it here as a stop-gap until I am able to post David Young's excellent full history of Gordon.
Gordon Bedson
Without Gordon Bedson the Frisky car would not be with us, neither would the Lightburn Zeta Sports, but who was he, what path lead him to Meadows and Lightburn and then what happened. Just what sort of a bloke was he? I never met him but I have spoken to several who have, and I quote from a drinking partner of his…
"Gordon was a good lad and he was straight, that's the point of it, I liked him because of that, he was an honest man and a pleasure to be with. I can't find anything wrong with him except that he was a mad bugger "
Over the years the life and accomplishments of Gordon have grown better with the telling, but he was, without doubt, a very clever man with a love of the car and aeroplane design.
He was born in the Channel islands in 1918 and between the ages of 17 and 20 he had joined The Airscrew Co at Weybridge designing propellers for Tiger Moths, developed a light training aircraft with Robert Kronfeldt and trained aircrew for the Bristol Aircraft Co. WW2 saw him in the Navy with the rank of Commander and at the end of the war in 1946 he was with BOAC flying Halifax Bombers which had been converted for passenger use. In 1950 he joined Vickers on the Valiant project and it was here that he started to take an interest in racing car design using the knowledge gained from his work on light aircraft.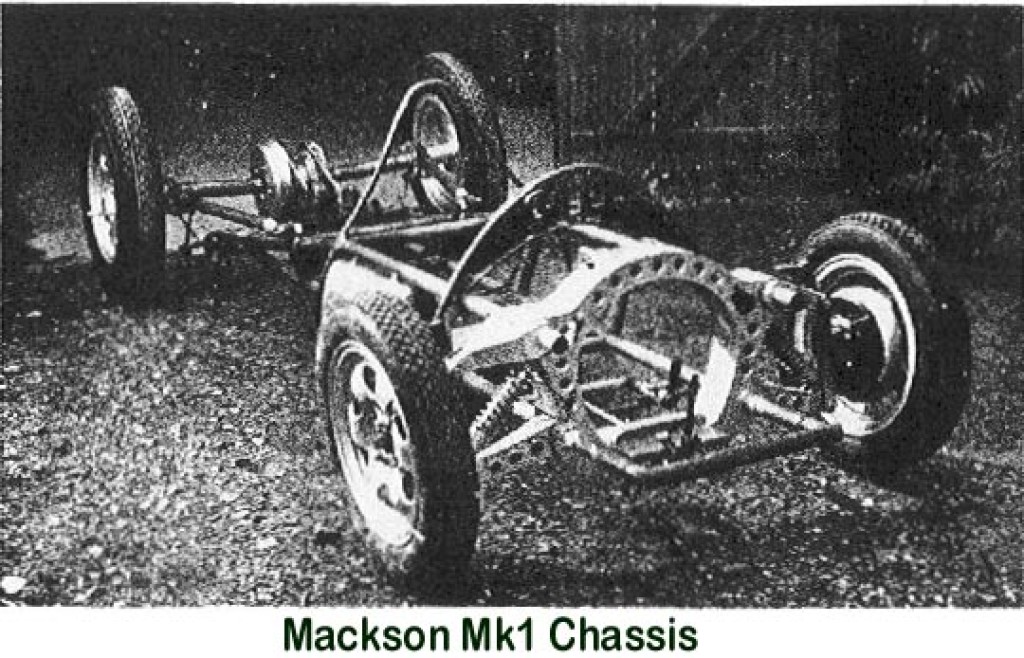 Gaining experience working with Alan Brown as a racing mechanic he then joined forces with Mac Macgree to design the Mackson 500cc racing car and it was here we can see the beginnings of his chassis design that we now have in the Frisky and the Zeta.
Gordon joined Kieft Cars Ltd in 1951 designing several racing cars probably the most famous being the 500cc Formula three car with a fully independent front suspension designed for Stirling Moss (then a director of Kieft) setting new lap records at Goodwood.
In 1954 Kieft was sold and Gordon took a complete change of direction and joined Henry Meadows Ltd Wolverhampton as Export Sales Manager travelling extensively, responsible for their engine sales around the globe. On a trip to India, the Bombay riots caused him to stop off in Cairo until they calmed down. Whilst there he got involved with The "Phoenix" car projects that Raymond Flower (MD of The Cairo Motor Co) was trying, unsuccessfully, to interest the Egyptian government in, (Nothing to do with the Frisky!). He then proceeded to India to look into a new engine plant for Meadows. Whilst there, of his own bat, he tried to interest the Indian Government in a small very basic three-wheel car he built using Lambretta parts but to no avail.
In January 1956 Raymond Flower had approached Meadows with his concept of a small "peoples car" and later on that year upon his return from a sales trip to Poland Gordon was moved over to design and construct the chassis for the new car project (The Gull Wing). Neville Flower meanwhile went to Italy to consult Giovanni Michelotti regarding body styles. The rest, as they say, is history, Gordon went on to design the chassis for the FriskySport, Coupe and Family three. Michelotti was not involved with the Frisky Sprint or Zeta Sport which were both designed entirely by Bedson.
To give you a flavour of the man I would like to recount the experience of Gordon's drinking partner (who I will keep anonymous) with Gordon and The Sprint.
To set the scene, a "gang " of friends used to meet up every Sunday at The Himley Hall Country Club for a beer or two, all were in "the motor trade" having access to some rather nice cars, and they all enjoyed a certain bend on the Himley road……
I'll never forget that Sunday, "Brian dear boy…." he had a lovely charming voice and a beautiful accent, "Brian my Boy come and have a ride with me I've got a car to show you I've bought this car down from work come and have a look at it ". We went outside and I said that's an F….g birds car, a skate with pram wheels on.
"Oh dear boy come and sit in the seat", and I got in with difficulty, and he wasn't a small man either and we got in this bloody thing and I said this is going to fall apart in a minute, and then he took me down the road and he accelerated, at that time we were talking about how cars cornered and going up the road to that bend he put his foot down all the way up to, into and round the bend and out of the bend he never took his foot off.
This bloody thing was like a go-kart (flat out around a bend and it just goes) and the Sprint used to do that, but I didn't know that and I 'm used to racing a car like the Triumph TR that slides and skids in the bend and I'm expecting this thing to break away and it didn't and he was laughing all the time that it was going round the bend and he could see my face and obviously I was going paler and paler and he knew he was frightening me and when he came back he put his brakes on in the bend, Telling me what he was doing "look I've put the brakes on" at full speed, he put the brakes on, and it started to skid and then he took his foot off and put it on the accelerator and whoosh we were straight out
As I say I got out of it shaking and I went into the club and said to blokes in there, this bloke needs you to send for the people in the white coats! he's mad completely mad he's just tried to kill me!
And Gordon just came up to me and says "dear boy what are you having " and we had a pint together and that was it, but that was Gordon.
In March 1959 Gordon along with his project engineer Keith Peckmore joined Lightburn & Co ltd in Australia to work on the Zeta Sports project. There was a considerable delay before it got underway so to kill time Gordon and Keith built a Norton powered 750 Special which they used to test run round the Lightburn factory. In the October Gordon raced it in the Invitation Handicap at Port Wakefield circuit. He also raced a Frisky Coupe that he had brought over with him from the UK. (This car is now being restored).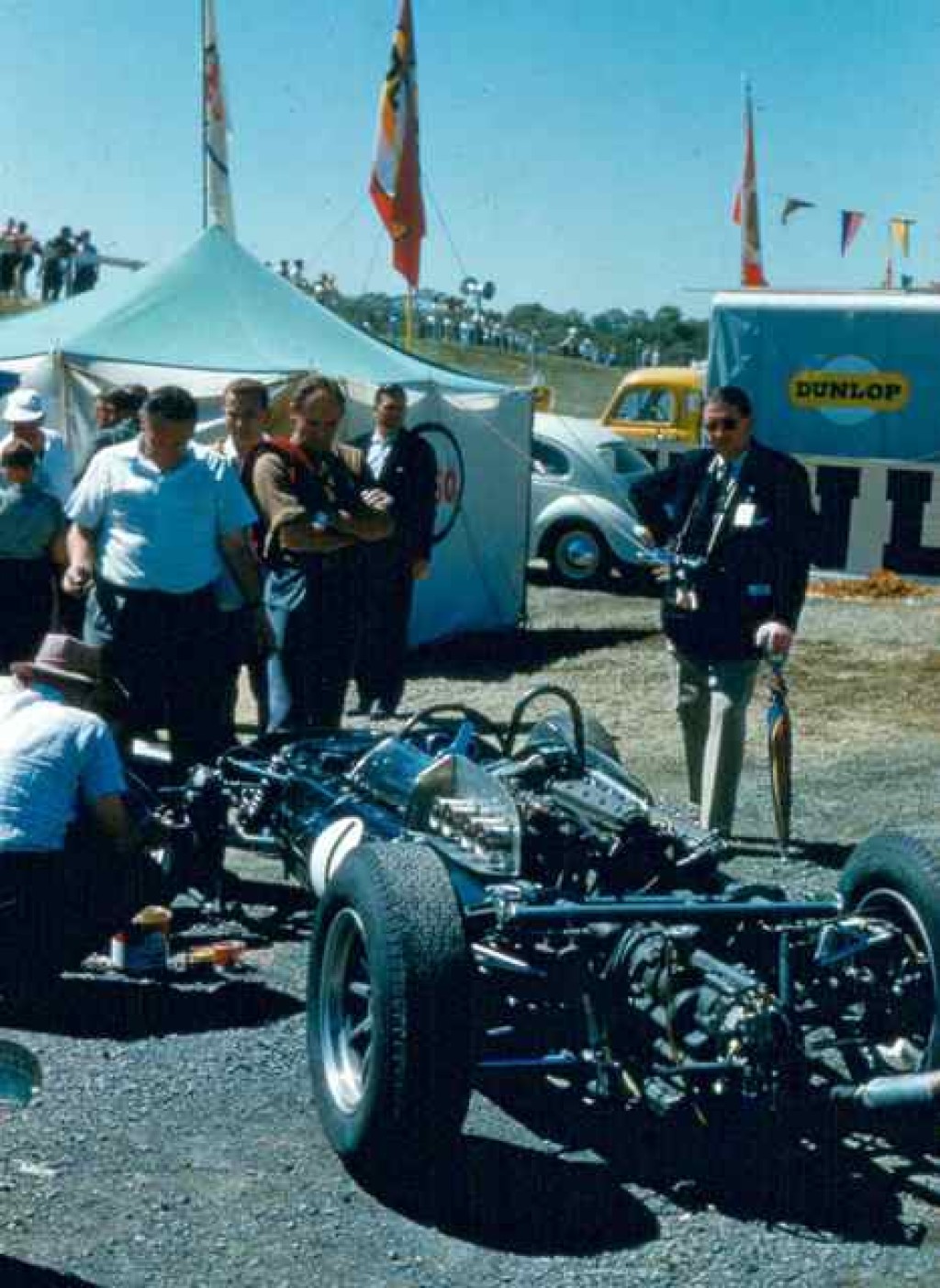 Gordon Bedson in Australia in 1962
The 50 Zeta Sports were eventually built in 1961 but not released until April 1964. By this time Gordon had had styling and quality issues with Harold Lightburn and left the company to join the Australian British Trade Association where he imported into Canberra the worlds biggest Haggis!
Completely changing the direction he opened the High Bonnet restaurant at Surfers Paradise on the Gold Coast, it was soon a great success populated by all the racing fraternity, and frequently used by Bruce Mclaren and his team where Gordon would regale them with stories of the racing cars he had designed. Whilst running the restaurant he also established KayFoam Ltd in Brisbane for Hovercraft, Australia's first polystyrene factory. He was also many times a guest cook on the Graham Kerr show!
He followed this restaurant with another in Armidale, then decided to return to his first love and set up a business in Bundarra making aeroplane propellers for ultra-light aircraft. It was not long before he had designed built and licensed his own ultralight "The Resurgam" which went on to achieve first place in the 1982 ultra-light race from London to Paris. There are still about 50 of these little planes in service.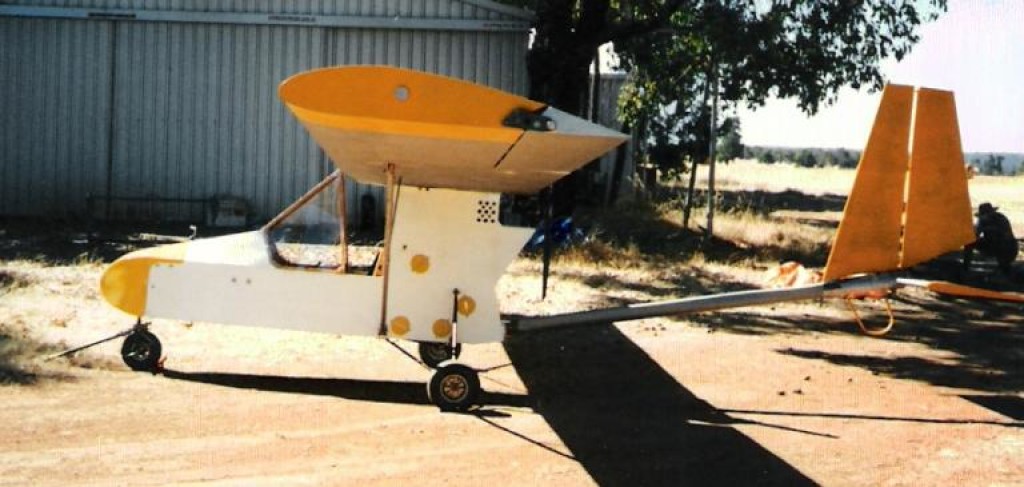 The Resurgam
By 1984 he had completed the design of a training twin-seater version of the Resurgam "The Magra" during its test flight in May. It suffered a wing strut failure whilst banking at 200ft and plummeted to the ground killing him.
Gordon Bedson was a man many talents, who in different circles, will be remembered for his racing cars, his microcars and his ultra-light planes which continue to give great pleasure today, 26 years after his death.
We were lucky to have had a man of his calibre associated with the Frisky.

John Meadows February 2010