Keith Peckmore was Project Development Engineer on the Frisky Project and as such Gordon Bedson's right-hand man.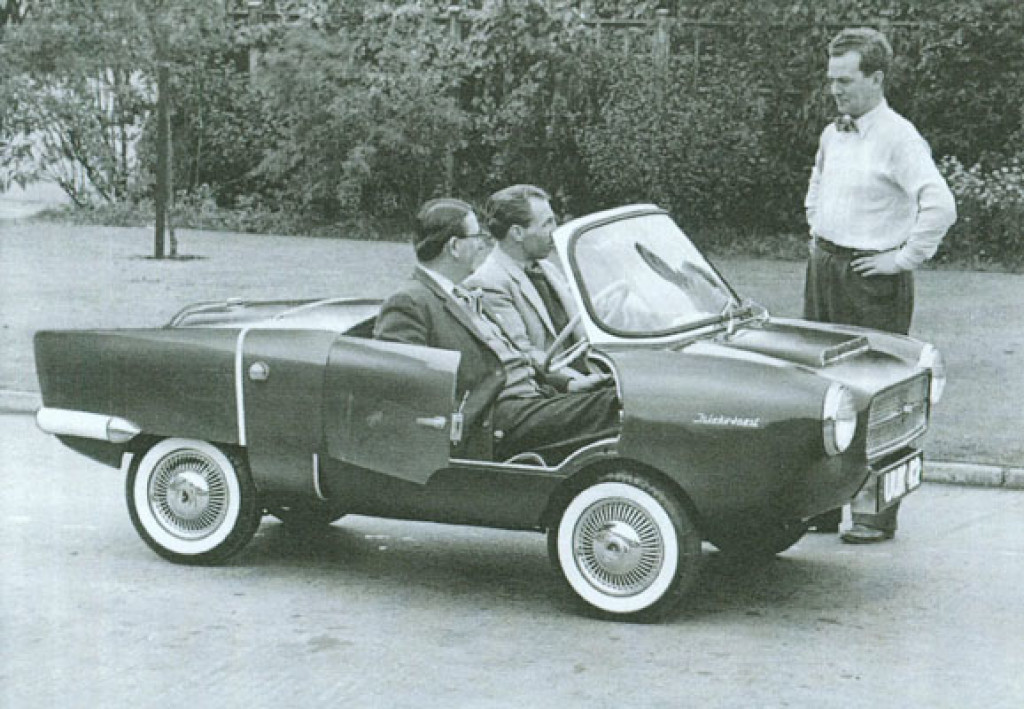 Keith with Gordon Bedson in UUK 42 FriskySport prototype
In 1929 Keith was born into an engineering family in Brierley Hill Dudley. He left school in 1943 to get a year's work experience before joining his father's garage on a five-year apprenticeship.
Keith's father was an experienced and talented engineer, before founding the family business in the 1920's he had made motorcycles and during the war built Aero engines for Armstrong Sidderly. As we now know Keith, inherited those skills. To get a good grounding he enrolled at Dudley technical college on a five-year course in engineering covering machining, welding (all types) and work on shaping and milling machines.
The War interrupted and Keith was conscripted into the army. Upon being demobbed he returned to join the family business repairing and rebuilding almost anything including engines, gearboxes, axles and differentials.
An opportunity arose for Keith to use his skills and also pursue his passion for racing cars when in 1952 he joined Kieft Sports and Racing Car company in Wolverhampton as a specialist welder where he was responsible for the chassis for their GP car and also building complete sports cars. Here he met and teamed up with Gordon Bedson.
In 1954 Cyril Kieft sold the company, Gordon Bedson left to join Meadows as Export Sales Manager and Keith joined Equipe Devone a non-championship F1 racing team in Devonl. His engineering skills and growing competence as a racing driver now coming in to play, being responsible for their Cooper Bristol and DB Aston R1.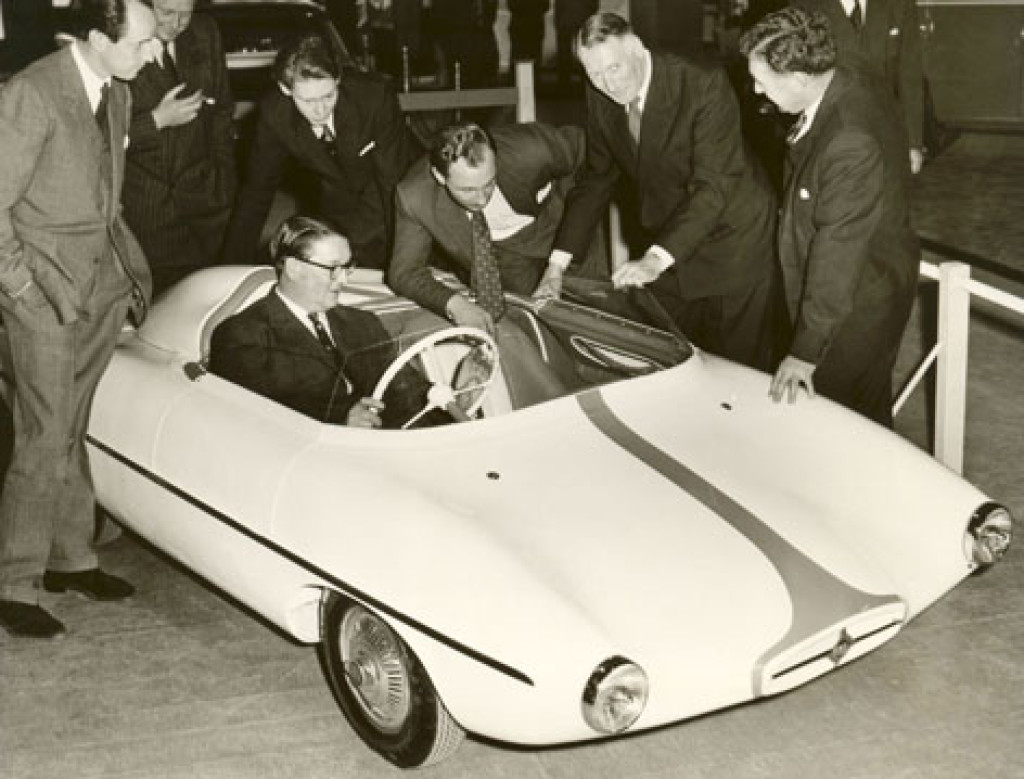 1958 Earls Court Motor Show: Keith (with the tie) points out his Frisky Sprints features
Two years later he received an urgent phone call from Gordon Bedson asking him to join him at Meadows to help build and develop their new lightweight car. So in 1956, Keith became the development Engineer on the Frisky project and with Gordon Bedson was responsible for the development of the Bug, the Gullwing, the FriskySport/Coupe, and Family Three, not forgetting, of course, the car he was most proud of The Frisky Sprint" it was a lightweight competition car, which as he still confirms today "went and handled very well" (full details elsewhere on this site). It is a big disappointment to Keith that it never made production as he is still convinced it would have been spectacular and successful.
Keith confirms that Giovanni Michelotti was not involved with, nor had any input into, the Sprint (or its Australian cousin the Zeta Sport).
At the 1958 Earls Court Show, both Keith and Gordon were approached by Harold Lightburn to develop a new lightweight car for the Australian market and so in March 1959 they both left Meadows and joined Lightburn Engineering in Australia.
Although they were a well-established engineering company making several successful products they had no experience of car production which caused long delays on the project. Keith and Gordon took this opportunity to race cars at the Port Wakefield track. Keith had his Healy, Gordon raced an imported Frisky Coupe, and they also built a 750cc Norton powered race special which they tested around the factory.
It was however very frustrating and at the end of the year, he left.

The Norton Special No. 35 at Port Wakefield in 1959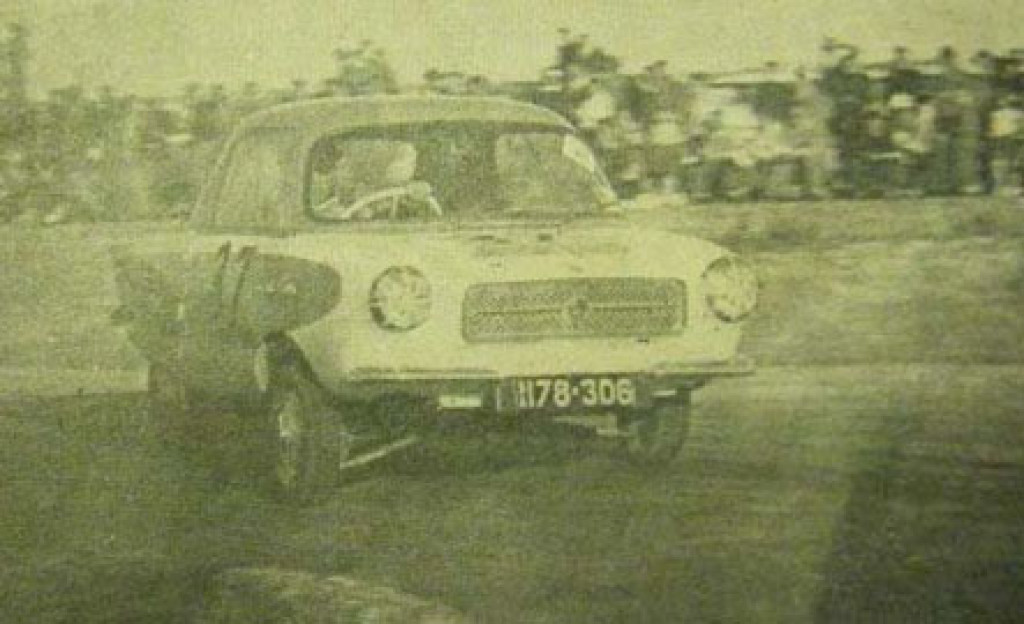 After a year honing his racing skills, Keith returned to the UK in 1961 and rejoined the family business going on establish his own company,
Today Keith is in his eighties and still very active. He freely makes his experience, knowledge and skills available to Frisky car owners and we are very fortunate to have his support.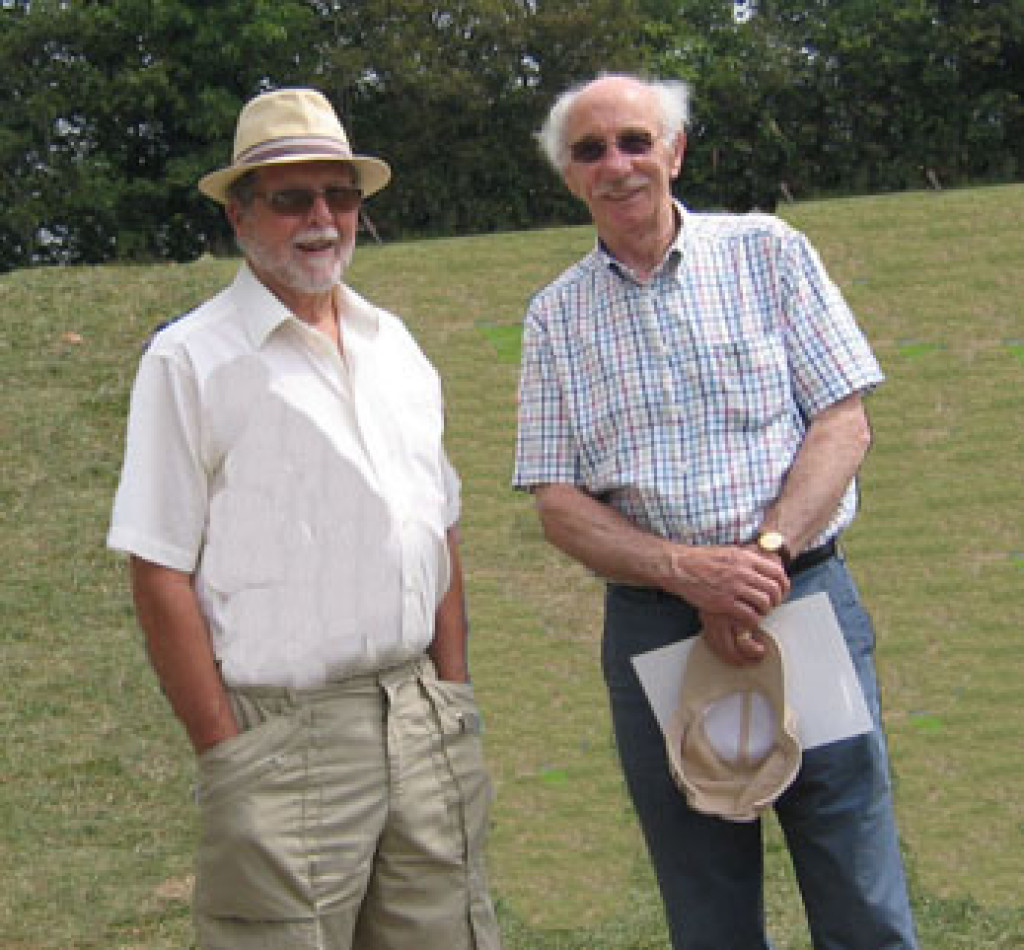 Keith with John Meadows (on left) at the Black Country Rally in July 2011
A small anecdote:

For his 80th birthday, Keith's family surprised him with a day out at the Morgan Motor Company at Malvern where he went out in their new Aero Supersport. After a while, the instructor asked if he would like to drive. A couple of laps later they pulled up with Keith still at the wheel having obviously enjoyed himself very much.
"You've done that before," said the instructor, how right he was!!!!